Publications
New Releases
Geiger, Patrick: Das flüssige Selbst. Henry David Thoreaus 'Walden' und globales Bewusstsein. Heidelberg 2021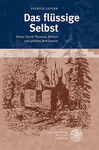 Thoreaus Wahrnehmung der sich im "restless, nervous, bustling, trivial nineteenth Century" verdichtenden Globalisierungsdynamik zwingt ihn zu einer radikalen Revision des 'westlich' geprägten Subjektdenkens. In Walden entwirft er ein "flüssiges Selbst", das als Versuch verstanden werden kann, die Gegensätze zwischen der Ausdehnungserfahrung der Zeitgeschichte und dem Bewusstsein über die Zwänge der Erfahrungswelt zu integrieren: Während sich die Perspektive des erlebenden Ich ins Grenzenlose erweitert, präsentieren sich die konkreten Lebensumstände der Menschen als unausweichliche Beschränkungen. Diesem Sachverhalt begegnet Thoreau mit einer Re-Evaluierung der lebensweltlichen Verhältnisse unter Miteinbezug der neuen, globalisierten Parameter.
Das "flüssige Selbst" entspringt dieser Praxis zwischen Abgrenzung, Tradierung, Neubegründung und Kontingenz. Die vorliegende Studie erläutert kenntnisreich und stringent, wie Walden damit den Versuch darstellt, der stetig wachsenden erlebbaren Welt und ihren globalen Verbindungen mit angemessenen Modifikationen im Denken und Sprechen über das Selbst zu begegnen.
Leonhardt, Nic: Theatre Across Oceans: Mediators Of Transatlantic Exchange. London 2021
Theatre Across Oceans: Mediators Of Transatlantic Exchange allows the reader to enter and understand the infrastructural 'backstage area' of global cultural mobility during the years between 1890 and 1925. Located within the research fields of global history and theory, the geographical focus of the book is a transatlantic one, based on the active exchange in this phase between North and South America and Europe. Emanating from a rich body of archival material, the study argues that this exchange was essentially facilitated and controlled by professional theatrical mediators (agents, brokers), who have not been sufficiently researched within theatre or historical studies. The low visibility of mediators in the scientific research is in diametrical contrast to the enormous power that they possessed in the period dealt with in this book.